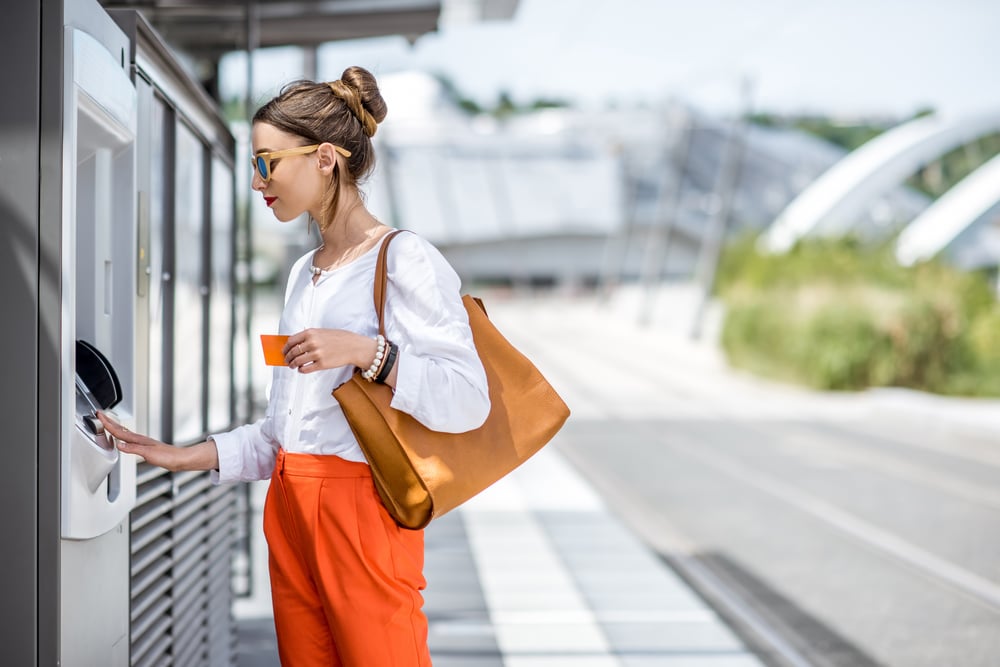 Ever since the number of branches in the United States reached its peak in 2009 at about 93,000, estimates have pointed toward banks shutting their doors on more than 100 branches a month. While such a trend could be viewed as alarming for financial institutions and their traditional form of business, the move has actually been highlighted by a rise in the role that ATMs are playing in meeting customer needs and in driving branch transformation.
And there are plenty of numbers to prove it. In 2014, there were 3.2 million ATMs estimated to be in operation around the world, with projections from the ATM Industry Association in 2017 estimating the figure would hit 3.5 million by 2020. And JPMorgan Chase, which features more than 16,300 ATMs and 5,300 retail branches in its U.S. network, saw its branch teller transactions decline by 25 percent from 2014 to 2016, while customers instead used ATMs for 90 percent of their withdrawals and 60 percent of their deposits. Chase, too, noted that about 60 percent of the transactions performed by tellers could have been completed by ATMs, with that amount potentially rising to 90 percent in 2018.
So what else does branch transformation mean in this digital and ATM-driven world?
Restructuring the Role of the Branch
The equation that has explained traditional bank branches is changing with the rise of mobile and online banking. As teller transactions decline and customers look to digital devices to handle their basic banking functions, banks instead are embracing ATMs as a way to refocus staff to handle sales and deliver additional customer service. In response to these changes, banks are now using digital technology as a driver of the transformation of branches from convenience centers to true sales centers.
As Andy Orent, president and CEO of ATM vendor Nautilus Hyosung America, noted, "One approach banks have adopted is simply to close branches, but banks tell us that 60 to 70 percent of their sales still occur in the branch. ... The answer to the branch cost issue is to migrate transactions from the teller line to the self-service channel."
As these trends continue, customers at banks will spend more time using ATMs for their day-to-day needs, while bank staff will move from behind the counter to focus on more complex sales tasks and transactions.
Reducing Costs and Increasing Efficiency
These changes in how and where banking staff are spending their time and how customers are using ATMs are also positively affecting banks' bottom lines. Giving customers access to ATMs helps drive down costs by moving low-level transactions—like deposits, transfers, and withdrawals—out of the hands of staff and into self-service channels.
One 2012 Bain Capital study found that branch employees spent an average of 60 percent of their time on low-value transactions, including administration and idle time. Bain Capital predicted that refocusing their investments in full-function ATMs would help banks redeploy 15 percent of their staff toward high-value financial activities, including driving loans and sales.
Changing the Customer Experience
The roles that ATMs play are also making an impact on what customers are experiencing when they visit bank branches. According to Gordon Smith, CEO of consumer and community banking at JPMorgan Chase, "Branches physically are changing—they're becoming smaller and the technology is moving to the front of the branch."
In other words, interactive ATMs allow banks to extend their brand at lower costs when compared to tellers while still providing traditional services when customers need them. More specifically, according to a 2017 ATM Marketplace and Auriga study, 32 percent of customers want to be able to cash checks at an ATM, and 39 percent want the ability to perform real-time account transactions from the ATM.
Additionally, according to a 2017 Accenture Financial Services consumer study, some customers want banking technology to go even further than that. "For example, 71 percent welcome automated support with their banking experience, with more than a third of them citing improved speed and convenience as their motivation. Meanwhile, 59 percent of customers cite advanced ATMs as being key to their branch experience." Digitally savvy consumers see these tools as their primary method of branch interaction, with the Accenture study noting 66 percent consider it important for their branch to have advanced ATMs.
Banks can also shape a customer's experience through the ATM with on-screen marketing and ads for new products and services that fit their needs or profile. This can help expand brand knowledge while also expanding sales.
Final Thoughts
Despite all of the noise, bank branches are not going to disappear entirely overnight. Instead, the bank transformation of today will leave the local branch looking and acting a lot different tomorrow than it did in your parents' time. Bank tellers will be working in a much more targeted fashion while ATMs handle more repetitive tasks. All the while, customers and banks will continue to work together to meet their financial goals.