In the financial industry employees are struggling to cope with their many responsibilities regarding their ATM fleet management. In an effort to gather current industry data related to why financial institutions select a service company and what issues they are trying to resolve, Burroughs decided to take a survey of those very industry professionals to get some answers. We took our short survey to the streets, so to speak, at Disney World, where the 2019 ATMIA Annual Conference was held.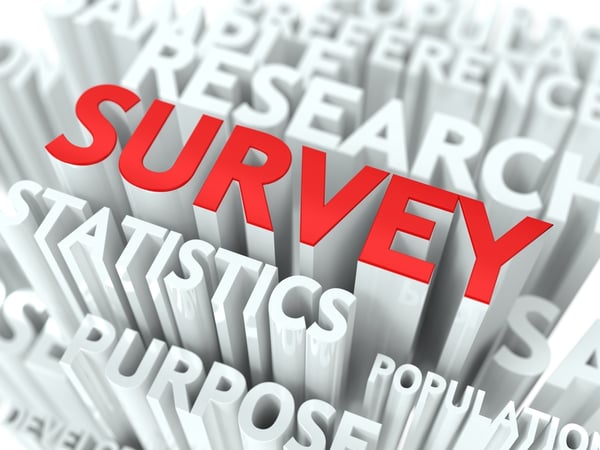 At the 2019 ATMIA Conference, the Burroughs booth featured a barista that made unique coffee drinks for our visitors. The line was long so we shook some hands and asked visitors to take our survey while they waited. One after another, passers-by stopped at the Burroughs booth to provide their input and insight via our industry survey.
Our survey asked just four simple questions:
If you could snap your fingers and have one issue be resolved?
What are the top two areas of improvement you would like to see from your service provider?
How many service providers do you manage?
Have you considered or are you currently outsourcing your software patch management?
Question 1:
When we asked financial institution representatives the question "If you could snap your fingers and have one issue resolved, what would that be?" there were two clear answers that topped the chart; Windows 10 and Fraud/Security.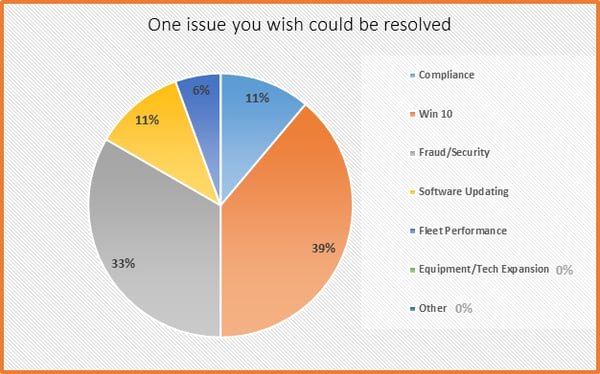 This was not surprising considering the pain Windows 7 caused upon its release. While those outside of the industry may see a software upgrade as a simple upload of a newer version of software, what those inside the industry see is an intricate web of deadlines and dependencies outside of their control. Windows 10 requires a survey of your existing hardware to determine if it can even be upgraded. If it cannot be upgraded then the task of researching OEM options begins to find the hardware that best suits the needs of your users. If the hardware can be upgraded, the next step is working with the network to determine what their timeline for certification is, acquiring the hardware and software components to upgrade, and planning the implementation of the upgrades. While Windows 10 is a huge undertaking, once it is complete it will be just another project in the rearview window. But then the next task will be keeping those ATMs secure and protected against fraud begins. On-going patching is something every ATM owner should take very seriously. The patches are released by Microsoft and are packaged by each OEM specifically for ATMs on a quarterly basis. These patches are what protects ATM owners and users against fraud and data theft.
Question 2:
Question two asked respondents "what are the top two areas of improvement you need from your service provider". There were two answers topping the list; improved communications and improved response.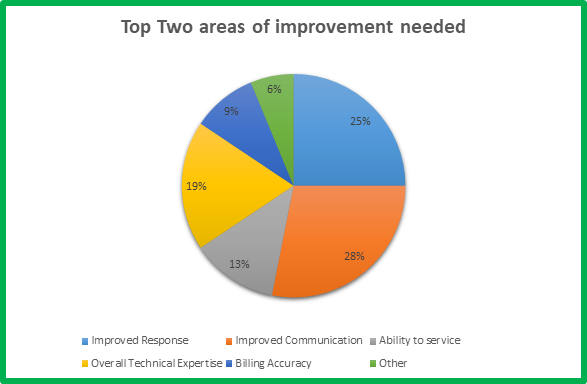 When choosing a service provider there are numerous considerations for ATM owners. While price may certainly be a big driver, what we have all learned over the years is that you get what you pay for and not all ATM service providers are the same . When considering a service provider, response and resolve times should come at the top of the list because these two factors alone can cost you customers and revenue while your machines are down. Also, ask your potential service provider how they communicate regarding service calls. Will you be provided a dedicated account manager? Will you have the ability to reach out directly to field management? Will you have the ability to view your calls via an online resource, or must you call into the service line to get an update?
Question 3:
The third question asked respondents to tell us how many service providers they manage. We asked this question because in talking with our own customers we see the amount of responsibility that falls on the shoulders of the ATM manager. In fact, according to the website, Marketwatch, 53% of Americans are overworked. The last thing anyone wants is added duties revolving around ATM fleet management. We weren't surprised to learn that most financial institutions are managing at least 2 providers. In fact, 50% of those surveyed are managing 2, 3, or more service providers.
Question 4:
The final question is about outsourcing software management. Just like in question three, we understand the responsibility that falls on the shoulders of personnel. While software management may tend to fall to the IT group to manage, as opposed to the ATM department, it would still be a burden on personnel to ensure patches are downloaded, secure, properly licensed, and deployed on a timely schedule. The majority of financial institutions we spoke to are considering outsourcing part or all of their ATM monitoring, patch management, and help desk functions. In fact, only 33% are not considering outsourcing. It is important in this day of employees being over-worked to look to your service provider and determine what services they are able to on-board so that you can free up your resources to focus on more important job functions.
Survey Conclusion:
The results that we were able to tabulate show us that ATM Fleet Managers have a large workload that includes anything from day-to-day ATM management to project management to vendor management. Evaluating your workload and determining what your ATM service provider can do to help you manage your fleet will not only free up your resources but will save you money in the long run.
Did you find this survey interesting? Click here to participate >>