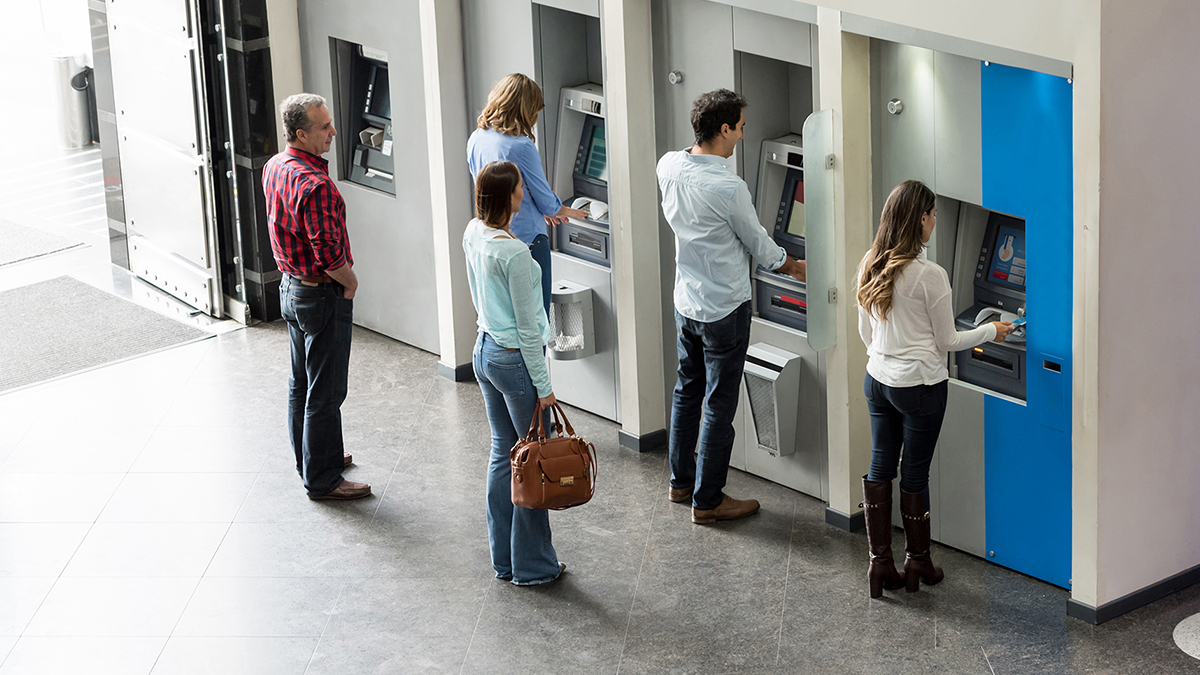 As a business that serves virtually every segment of the population, financial institutions depend on a mix of solutions to meet a diversity of customer needs. One of these technologies, the automated teller machine ⏤ has been a staple of financial services for 50 years. And with good reason: The ability to deliver a convenient 24/7 customer experience, minimize personnel costs and reduce lines at the branch are a triple-win. There's no doubt that some form of ATM and its modern cousin, the ITM (interactive teller machine) will continue to play an important role in financial customer experiences long into the future, especially as institutions navigate the "new normal" post-pandemic.
A fresh look at an enduring solution
Whether you're growing your footprint or simply looking to upgrade existing systems, you have a lot of options. Of course, you'll need to consider the characteristics of each space and the nature of the transactions at the site level. (For instance, demand for cash may be higher in an entertainment district; other locations may see more check deposits.)
The more challenging part of the decision process is working through the details of this remote ecosystem:
Machine support and service: What if a unit goes down across town on a Friday afternoon? To many customers, that's like a branch shutting its doors. Remote managed services and timely repairs need to be part of your plan.

New technologies can be pricey and include a lot of "bells and whistles" you don't need. On the other hand, those needs may evolve as other business initiatives take hold and consumer demands shift. It may make sense to invest in a bit more than your current requirements. Evaluate technology in the context of short- and long-term business goals.
From a feature perspective, both ATMs and ITMs offer value in different ways.
ATMs
You've probably used hundreds of ATMs as a banking customer, but have you seen the newer machines? Many offer user friendly improvements like cash in multiple denominations and higher withdrawal limits. Additionally, cardless "eATMs" allow users to access machines via a code on their smartphone.
Despite its many advantages, the ATM isn't a comprehensive solution. More complicated transactions still require teller assistance. And depending on how the machine is configured, the user will be limited to a certain set of responses and options.
ITMs
ITMs were introduced with the intention that they could basically pick up where a branch left off after hours and continue the full-service experience from a kiosk. Indeed, many banks and credit unions embraced the concept early on, investing heavily to implement rich touchscreen and video capabilities to allow real-time interaction with a remote teller.
However, in practice, many of these organizations soon realized the staffing burden required to keep the ITMs fully functional after-hours. Without this support, they could only function as traditional ATMs once the bank closed for the day. After questioning whether their ITMs offered any extra benefit to consumers ⏤ and challenged by the added maintenance burdens of these enhanced technologies ⏤ many banks and credit unions have removed them or downgraded to traditional ATMs.
That said, ITMs are still worth considering if you're looking to provide robust capabilities that ATMs can't — and you have the resources to provide a full-service experience even after hours.
They're perfect for areas not suitable for a branch. They also offer the convenience of teller services outside of normal business hours.

ITMs can support more complicated transactions. Say a customer's card is lost or stolen. She can head to the nearest ITM to show/scan proof of identity to the remote teller, who can authorize a transaction and card replacement on the spot.

One feature that sets ITMs apart from ATMs and branches: they allow you to provide a remote team of multilingual tellers who can be ready to assist customers in a number of different languages, including American Sign Language.
All of these features come with a higher price tag, though. Financial institutions must think carefully about the functionality they need and the ability to provide the necessary resources to pay off the full experience before investing in such advanced equipment.
Seek help from an independent expert
The right partner can help clarify the decision process. Engage a solution-agnostic consultant who can recommend the right solution (or mix) that best fits for your business needs and situation. Even better: Choose one that can also take on the service of this ecosystem. That means proactively monitoring the health of your systems, remotely resolving problems and quickly mobilizing onsite when major repairs are needed. If you already have an internal team, an outside service partner can support them with access to hard-to-find replacement parts, insight to known idiosyncrasies of certain units, and more.
Why Burroughs?
For 133 years, we've served thousands of financial institutions and businesses in developing smart, efficient and more profitable ways to handle, manage and record payment transactions. As an OEM-agnostic provider, Burroughs takes a consultative approach focused on helping you find the solutions that are best aligned with the unique needs of your business.
As financial services grow ever more competitive, customer experience will be key to success. With Burroughs, you have a partner on the leading edge, ready to help you find innovative and user-friendly ways to improve financial management. Count on Burroughs for solid advice and guidance. To learn more, contact us today.