While an ATM outage in your fleet may never reach the scale that Wells Fargo experienced in early February 2019, the three days it took to fully resolve the issue highlighted just how important robust, timely customer service can be in delivering a quality customer experience. When an issue is identified somewhere in your ATM fleet, mechanisms should kick into action to resolve the issue as fast as possible. What sets some banks apart from others is how timely they're able to resolve the issue.
And when your ATM fleet is a key part of how your customers interact with your financial institution, any kind of outage can be a make-or-break situation. In fact, according to a report by NewVoiceMedia, 49 percent of customers surveyed have switched to a different business as a result of a poor customer experience.
So when—not if—an issue arises, how can your organization be ready to solve the problem in record time?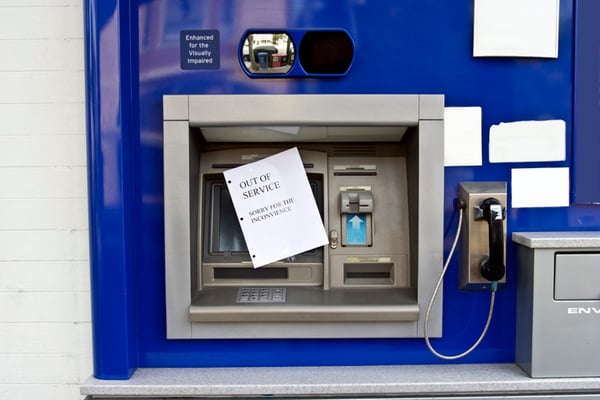 Identifying and Troubleshooting the Issue
Once an issue is recognized—either by a customer, one of your employees, or a monitoring tool—the clock begins to tick. The next step can be the difference between a lengthy outage or a timely, focused resolution. If your organization relies on OEMs for assistance in identifying, troubleshooting, and setting up the right solution, you could quickly find yourself waiting on hold before being triaged out to a regional technical support team that has its own schedule.
On the other hand, having a dedicated account manager assigned to your ATM fleet by a service provider means you will have a friendly voice on the other end of the line that knows the amount of attention the issue deserves. Experienced, trained, and local technical support that is knowledgeable about your fleet can then work with readily available maintenance, update, and usage records and customized system monitoring software to conduct the initial issue triage.
Deploying the Right Technical Services
Once the issue is identified, the next opportunity to save time comes in having the right technical support on-site to resolve the issue. Relying solely on OEMs to service your diverse fleet can mean limited or segmented support while the right staffing is identified. On the other hand, service providers often have technicians who are able to service a range of software types, ATM makes and models, and operating system versions. service providers are able to quickly escalate issues within their own teams, bringing in Tier 2 and Tier 3 support as well as leveraging their strong vendor relationships when it is needed.
Similarly, technical support with broad geographic coverage can save significant time. Rather than deploying centralized staff or awaiting a response from an OEM vendor, a services provider can deploy a local technician, delivering the consistent hardware, equipment, and software ability when and where it is needed.
Tracking the Issue to Resolution
Having the ability to track the status of an issue throughout its full lifecycle is another way to ensure that your organization is getting the response time it expects. Whether the issue is widespread or limited, a high priority or minor inconvenience, an interactive issue tracking portal can assist in communicating the status to stakeholders and ensure the issue is getting the attention it deserves.
Additionally, this portal can be used to display metrics to monitor fleet-wide availability, average uptime, and other statistics in real time so issues can be escalated and trends can be analyzed for potential underlying causes. Just relying on OEMs for support, on the other hand, can mean another lengthy wait on hold that results in an ambiguous estimated resolution time.
Be Prepared with an Established Service Provider
Every time a customer comes across an out-of-service ATM is a lost opportunity. While issues are bound to happen and are impossible to prevent, how your organization prepares for them and how it responds can make all the difference. Choosing a service provider like Burroughs means your organization is making a huge leap forward in having the right equipment, right technicians, and right tools available when issues occur. Click here to learn more about our full range of managed services.