While any good company spends a great deal of time and money on training, updating knowledge bases and improving response times, being a true customer service champion requires people skills, mentoring, training, and experience.
We expect all customer service representatives and technicians to present themselves with professionalism and confidence. A clean-cut appearance, a warm smile, or speaking with a calm and reassuring voice are keys to first impressions. Whether by phone or in person, it is important to consider human behavior and the complexity of interaction. What a customer says may no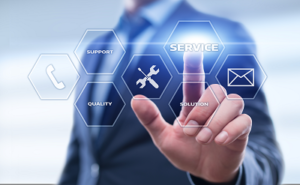 t reflect the entire need. Similarly, how a service representative conveys information is as important as the information they share.
An experienced customer service representative arriving on-site should be considerate of their surroundings, modulating tone and volume, and maintaining a respectful demeanor at all times. Upon completion of the task, the service representative should provide a brief description of the resolution as well as the proverbial "tip of the hat".
Outstanding customer service is this combination of assuredness and knowledge of human interaction, combined with extensive training. Dedicated companies will go above and beyond to ensure they hire knowledgeable, personable individuals who respond to training and learn from client interactions and experience.
The most highly prized moments in a service representative's career are when a customer praises his or her work. When a client takes the time to contact the company and mention a technician or call center rep by name, it is a wonderful validation of the time and effort they spend taking care of customers!